Chile on Shortwave
By Don Moore

At present Radio Esperanza in Temuco is the only Chilean shortwave station regularly heard at distant locales. Radio Esperanza is on 6088 or 6090 kHz and can be heard on weekends between about 0700 - 1130 UTC, when the station is on 24 hours. It can sometimes be heard during the week around the same time, although that schedule may be more irregular. Signals tend to be fair, but there is often interference. Prior to about 0930 UTC, Radio Bandeirantes in Brazil, also on 6090, can be a considerable source of interference.
Stations Radio Santa Maria on 6030 and Radio Patagonia Chilena on 6080 can sometimes be heard in North America either around 1000 UTC or in the evenings around 2300 - 0000 UTC. Mostly these frequencies are covered by major international broadcasters, but sometimes as they change their schedules, a "window" is created which allows one of these two Chileans from Coyhaique to be heard in North America.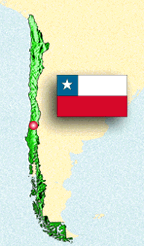 Santiago commercial station Radio Agricultura and Radio Mineria also have shortwave frequencies, 9630 and 9750, respectively, but these have been mostly inactive for several years. Radio Nacional de Chile also has unused shortwave facilities. Some or all of these are in the process of being sold to an affiliate of the Evangelical Far East Broadcasting Corporation as a replacement for its station KGEI in California, which was closed down a few years ago.
It is unfortuante that there is no easily-heard non-religious shortwave broadcasts from Chile, considering the importance of the country and its culture. Chileans reading this are strongly urged to contact Radio Agricultura and Radio Mineria and urge them to put their shortwave facilities back on the air. Likewise, Radio Nacional should reconsider its use of shortwave. During the early years of the Pinochet dictatorship, Radio Nacional even had an international service with broadcasts in several languages. Surely Chile and Chilean culture should have a more visible presence on the international air waves!

This website is maintained by Don Moore,
Association of North American Radio Clubs
DXer of the Year for 1995.